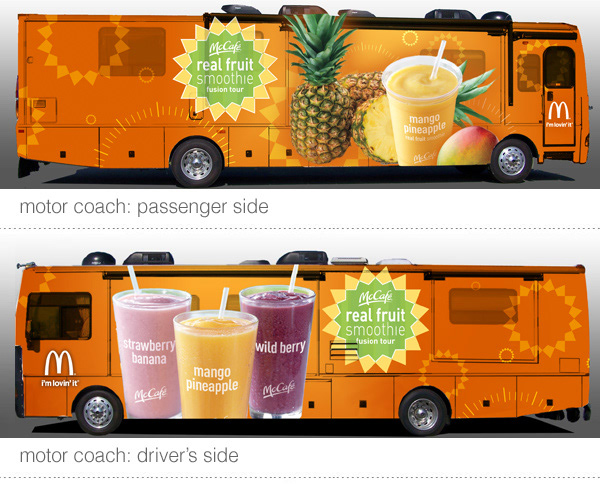 Over the course of three years, I collaborated with Ventures Unlimited and The Marketing Store to create custom sampling experiences for the newest McCafé offerings
 from McDonald's restaurants.
This particular year, the creative brief included the exterior of the motor coach, which was to translate the pulsing, exciting and vibrant sense of an existing tv spot into an IRL experience that began with the exterior of the coach, extended into the coach's interior and online.

The McDonald's McCafé touring coach required an interior transformation, from the previous year's shocking pink lounge vibe to a fresh, bright, mango-inspired atmosphere. The new color palette worked with existing wall surfaces, but a plan for repainting existing cabinetry, adding lighting features and striped plexiglass partitions for a more eclectic, textural feel refreshed the interior environment. In addition, large-scale decals transformed table tops, walls, and vertical surfaces. To create space for samplers to share personal experiences with the brand and the new flavor, a mesh curtain carved out an intimate nook for capturing testimonials.

In addition to the coach interior, a UX and paid creative campaign supported the tour online.
Ventures Unlimited was the agency responsible for the overall campaign this year. The project was completed in collaboration with Graphic Designer, Jana Kinsman. Jana's contributions included concepting which formed the basis for the finished interior decor, and design of the banner ad.